The Glenroy Hub Children's Centre is a brand new long day care service based within the state-of-the-art Glenroy Community Hub, which opened in February 2022. The Children's Centre offers long day care for children from 6 weeks to 6 years of age, as well as an integrated kindergarten program for 3 and 4-year-old children.
In addition to the Children's Centre, the Hub is the new home for:
Glenroy Library
The Glenroy Memorial Kindergarten
Maternal child health services
CoHealth
Glenroy Neighbourhood Learning Centre
A community garden.
The co-location of these community services provides greater service offerings and social opportunities to the Glenroy community.
The Northern Schools Early Years Cluster Inc. (NSEYC) is a not-for-profit Early Years Management organisation, based in the northern suburbs of Melbourne, and manages the Glenroy Hub Children's Centre.
Our purpose is to Love a Life of Learning and Living. Our values are Trust, Respect, Relationships and Curiosity, and these values inform everything we do. We specialise in delivering high-quality early learning programs in close partnership with families, our hub partners, schools and the broader community, as we know this has enormous benefits for children's lifelong learning. Our educational philosophy includes a focus on authentic relationships to support individual children's wellbeing and development, with a strong emphasis on learning through play in nature.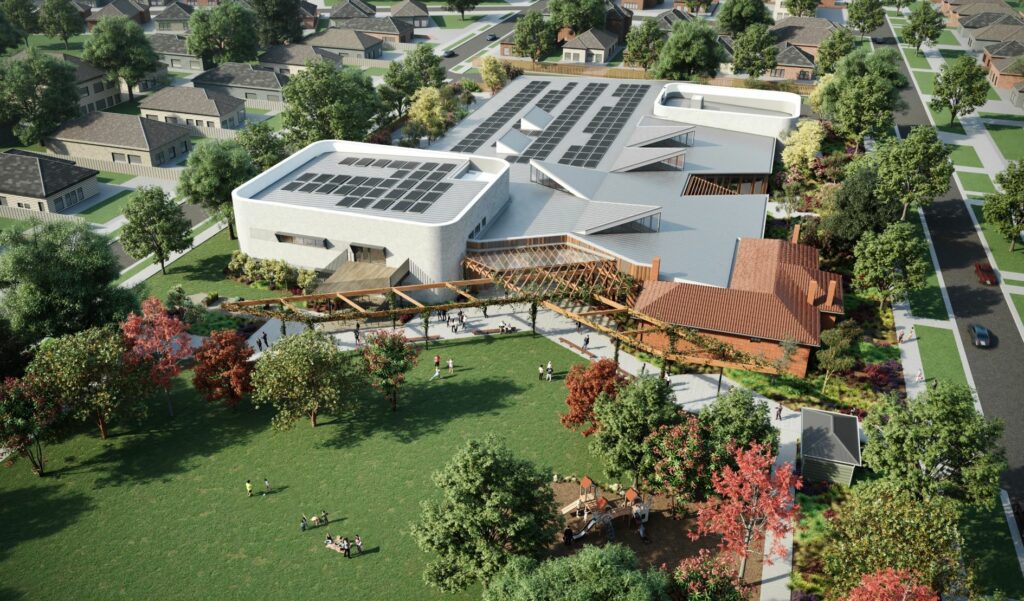 Facilities and services
The Children's Centre offers long day care for children from 6 weeks to 6 years of age, as well as an integrated kindergarten program for 3- and 4-year-old children.
The Centre operates from 7am to 6pm, Monday to Friday.
Note: The service will be closed from the 25th December 2023 to 5th of January 2024. We will resume on Monday 8th Jan 2024.
Fees for 2023
Daily fee: $125.00 per day
Weekly fee: $562.500 per week
Depending on your circumstances, you may be eligible for Child Care Subsidy. Contact Centrelink for more information.
How to enrol
Enrolments for Glenroy Hub Children's Centre are now open for 2023, via Merri-Bek Council. Please visit the Council website at https://www.merri-bek.vic.gov.au/living-in-merri-bek/community-services/children-and-families/childcare/ or phone us on 03 9306 1662 for assistance.
Contact details
Address: Unit 4, 50 Wheatsheaf Road, Glenroy VIC 3046
(located within the Glenroy Community Hub)
Phone: (03) 9038 9430
NSEYC Office phone (for enrolments): 9306 1662
Testimonials
From a family at Glenroy Hub Children's Centre:
"I just wanted to take the opportunity to acknowledge the incredible job the team at the Glenroy Hub children's Centre are doing. In just 5 days of attending care, my daughter has settled very easily building a strong sense of belonging, displaying leadership, confidence and resilience through genuinely compassionate relationships with her educators.
"My biggest concern was separation. After spending maternity leave in lockdown, this was a major complex for me. The team have been such a great support and I now have peace of mind leaving her, knowing she is in the best hands. The educators have taken the time to learn and understand her strengths and interests with enthusiasm, and are never far away to support and guide my daughter's self- help skills and independence.
"Glenroy Hub children's Centre is truly a state of the art service with natural environments to inspire and promote positive health and wellbeing, exceeding all our expectations and providing our daughter the best possible start to early education.
"We are so grateful to all the staff who are nurturing, kind and genuinely love what they do. Thank you for helping us feel reassured. We are truly lucky to have a place at the hub!"