This brand new kindergarten is based within the school grounds at Willowbank Primary School in Gisborne, opening in 2022. The kindergarten program will invite children to explore, discover, create, investigate, wonder, be spontaneous, take supported risks, make mess and noise, and be wholly engaged in learning through play. Being located within the school grounds will provide even more opportunities for children to experience learning in the outdoors and develop their sense of belonging in the wider community.
For more information about the Primary School under construction, visit the Victorian School Building Authority website or the Willowbank Primary School Facebook page.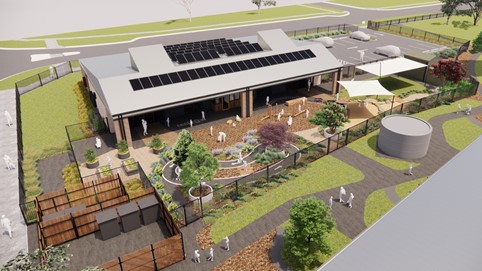 Facilities and Services
Rothschild Road Kindergarten @ Willowbank Primary School will offer kindergarten programs for three-year-old and four-year-old children.
How to enrol
Enrolments for Rothschild Road Kindergartenare now open for 2022, via our office. Please get in touch by email at office@nseyc.org.au or phone 03 9306 1662 for assistance.
Contact Details
Address: 73 Rothschild Rd, Gisborne VIC 3437
(in the grounds of Willowbank Primary School)
Phone: (03) 9306 1662